It has been 20 years since the 1994 Rwanda genocide that killed 800,000 Tutsis and moderate Hutus in a 100-day rampage.   Following our work with One Million Bones, Students Rebuild, and CARE over the past two years, on raising awareness about ongoing genocides, the thinkpeace community is deep in thought and conversation about what happened in Rwanda, is still happening in Sudan, Somalia, Burma, Syria and the DRC, and what lessons have really been learned that can help prevent future atrocities. Since World War II, the international community has said "never again," a yet our failure to act has continued to cost lives.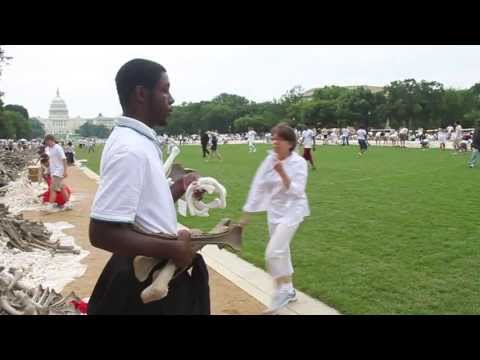 Memorials across Rwanda are constant reminders of the brutality that destroyed the nation. In the United States there seems to be little coverage regarding this anniversary– and even less discussion. Last night, on Facebook, I saw that a friend had changed his profile picture to the Rwandan flag, in honor of the victims and  survivors of the genocide. He has spent time there for his work, and loves the people and the land. No one knew what his picture was for– what it meant to him, personally, to celebrate a rebuilding Rwanda. And yet, to the children born during or after this time in Rwandan history, awareness about genocide is vital. "Never again" must stand for something. We must know what happened and why… and see that it's not over and we must not stand by again.
U.N. Secretary-General Ban Ki-Moon has urged the international community to learn from its failure to stop the genocide in Rwanda, and to take stronger action to confront current crises, like the conflicts in Syria and the Central African Republic. "The international community," he said, "cannot claim to care about atrocity crimes and then shrink from the commitment of resources and will required to actually prevent them." The UN was not effective in preventing the Rwanda genocide, much less in stopping it.  The international community's silence was wrong. Much more could and should have been done–  instead, peacekeeping troops were withdrawn when they were most needed.  "The world has yet to fully overcome its divisions, its indifference, its moral blind spots," he said, citing the atrocities that occurred in Srebrenica in 1995, and the current conflicts in Syria and the Central African Republic. "There is a truth to the human condition that is as alarming today as it was 20 years ago; the fragility of our civility. The bonds that hold us together can swiftly disappear."
So here's the question: when we say "never again" what do we really mean? What can we do to end genocide? How can we strengthen the "bonds that hold us together" in a world that seems full of anger, righteousness and extremism? What role can you play? When you see or hear about any human being (actually, any living creature) in need or distress, SPEAK UP!  Celebrate diversity in your every day life. Failure to act is not acceptable. When we say "never again" it means that each and every one of us takes a stand. As we laid bones on the National Mall last summer as a visual petition against genocide, we felt it– the connection to others who had been brutally killed because they were different. We asked ourselves: underneath it all, aren't we the same? Looking out at the Mall covered in one million symbolic bones, we cried for the blood spilled, the lives lost, and the damage done to future generations. There is another way. And together we must find it. Never again, means that we must be accountable to each other and to promoting peace, love and understanding.
"We really do belong to each other." -Naomi Natale
♥